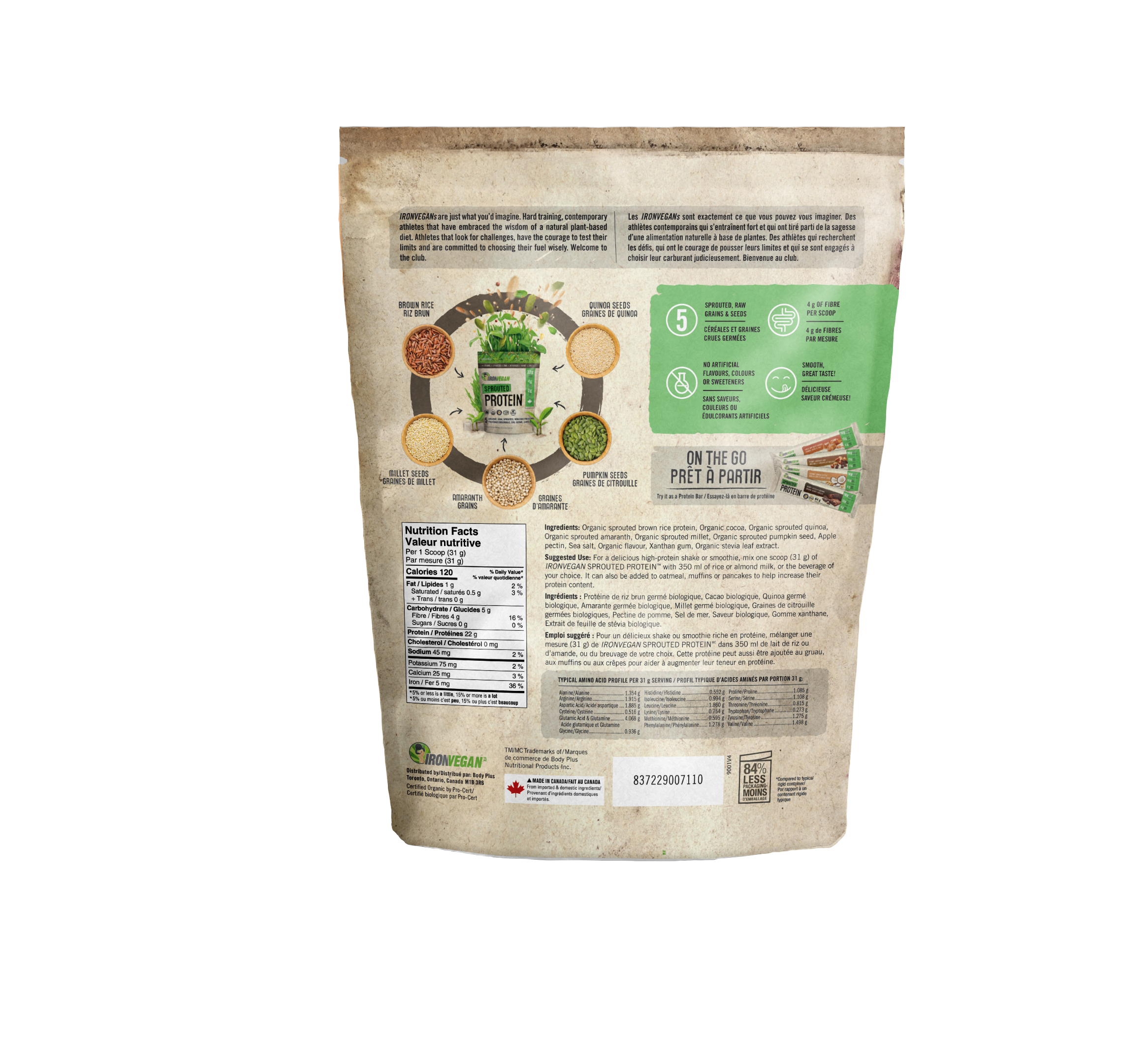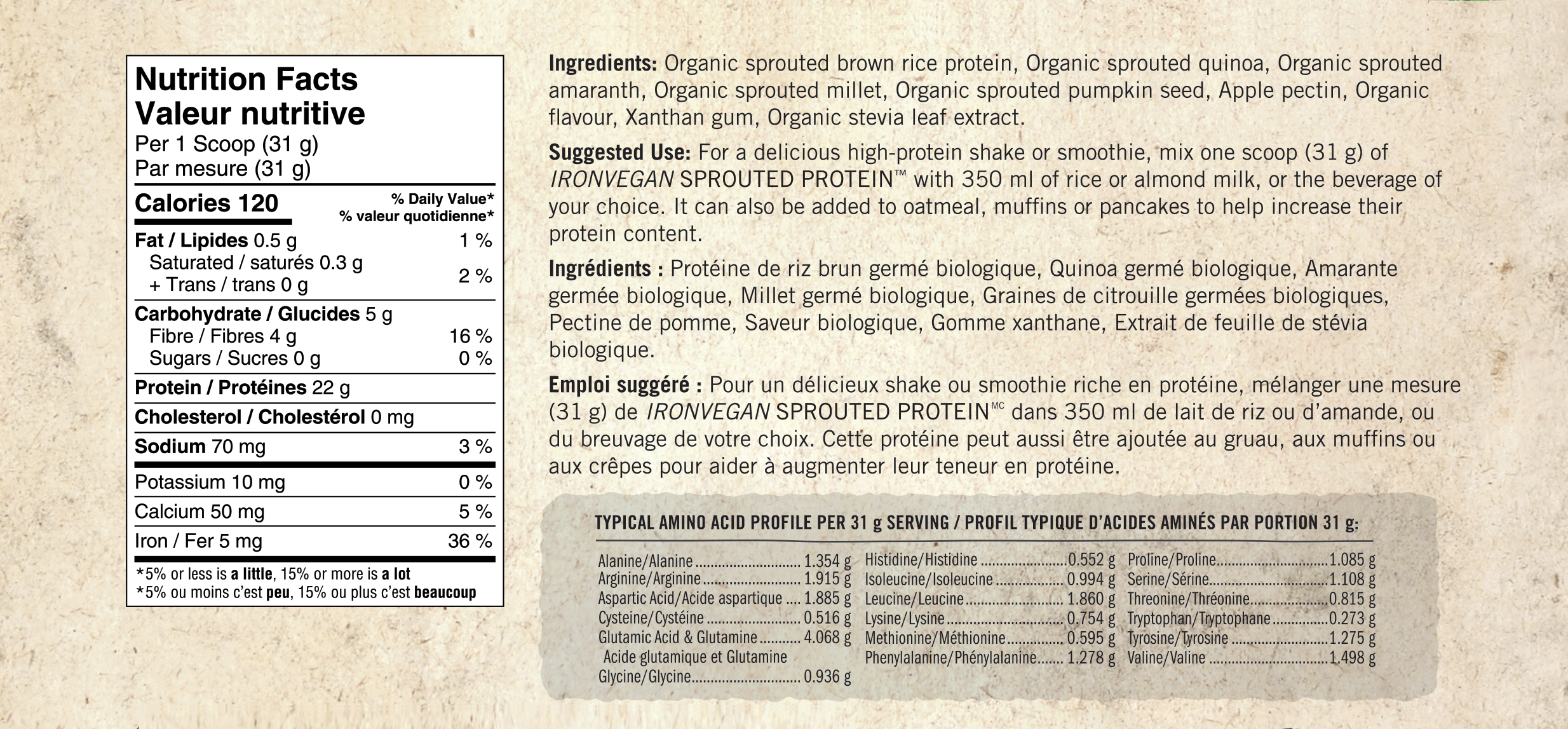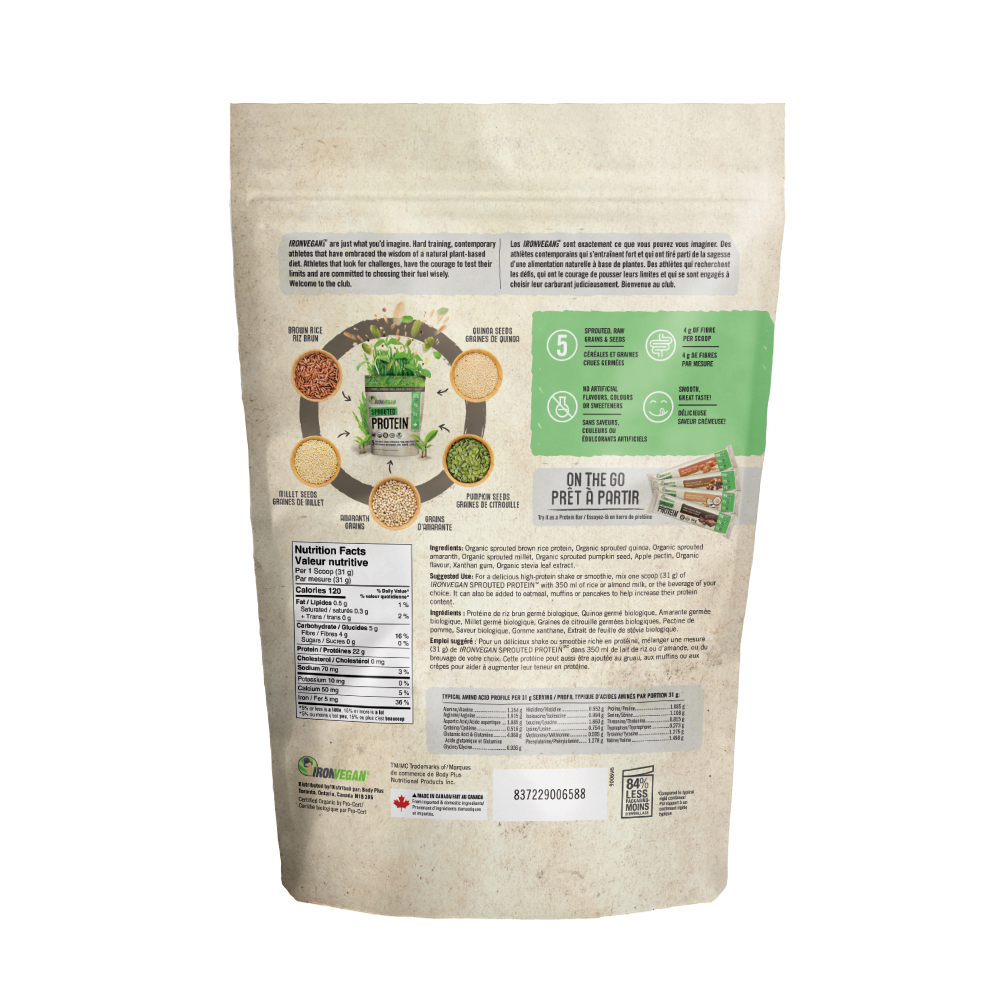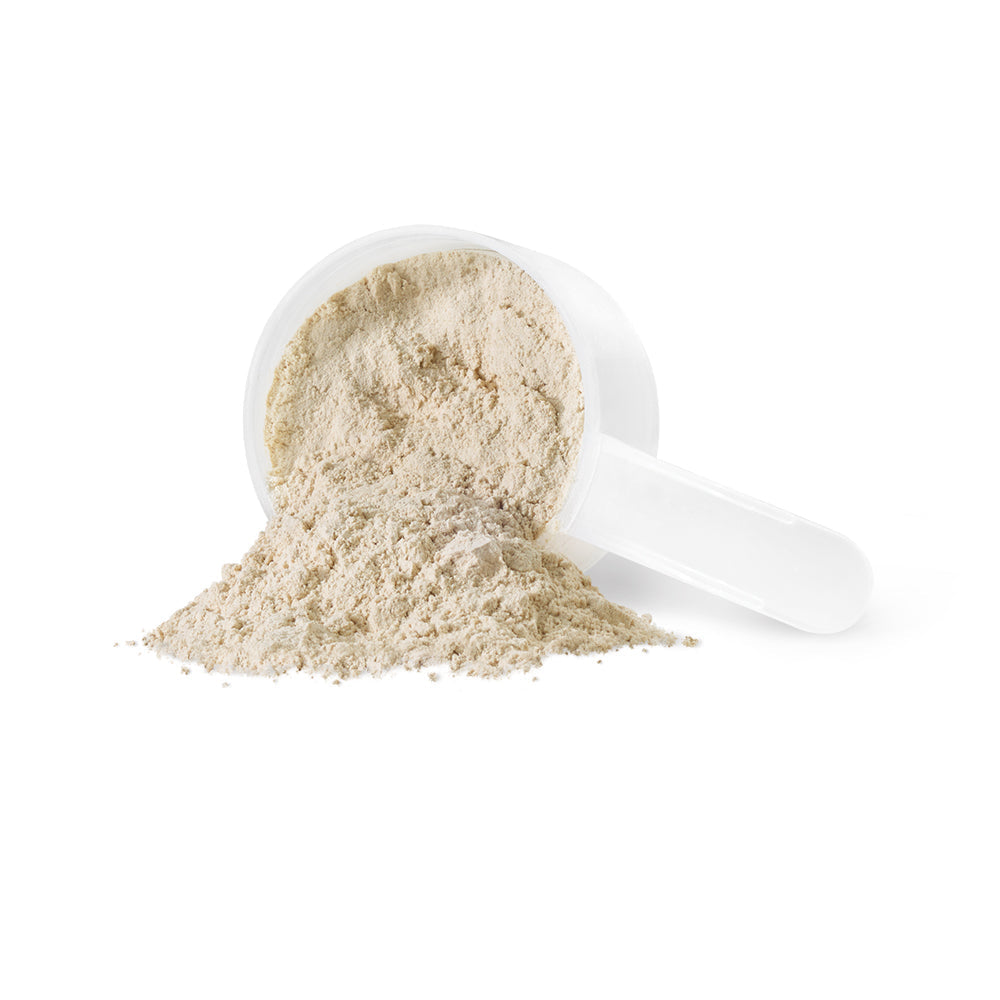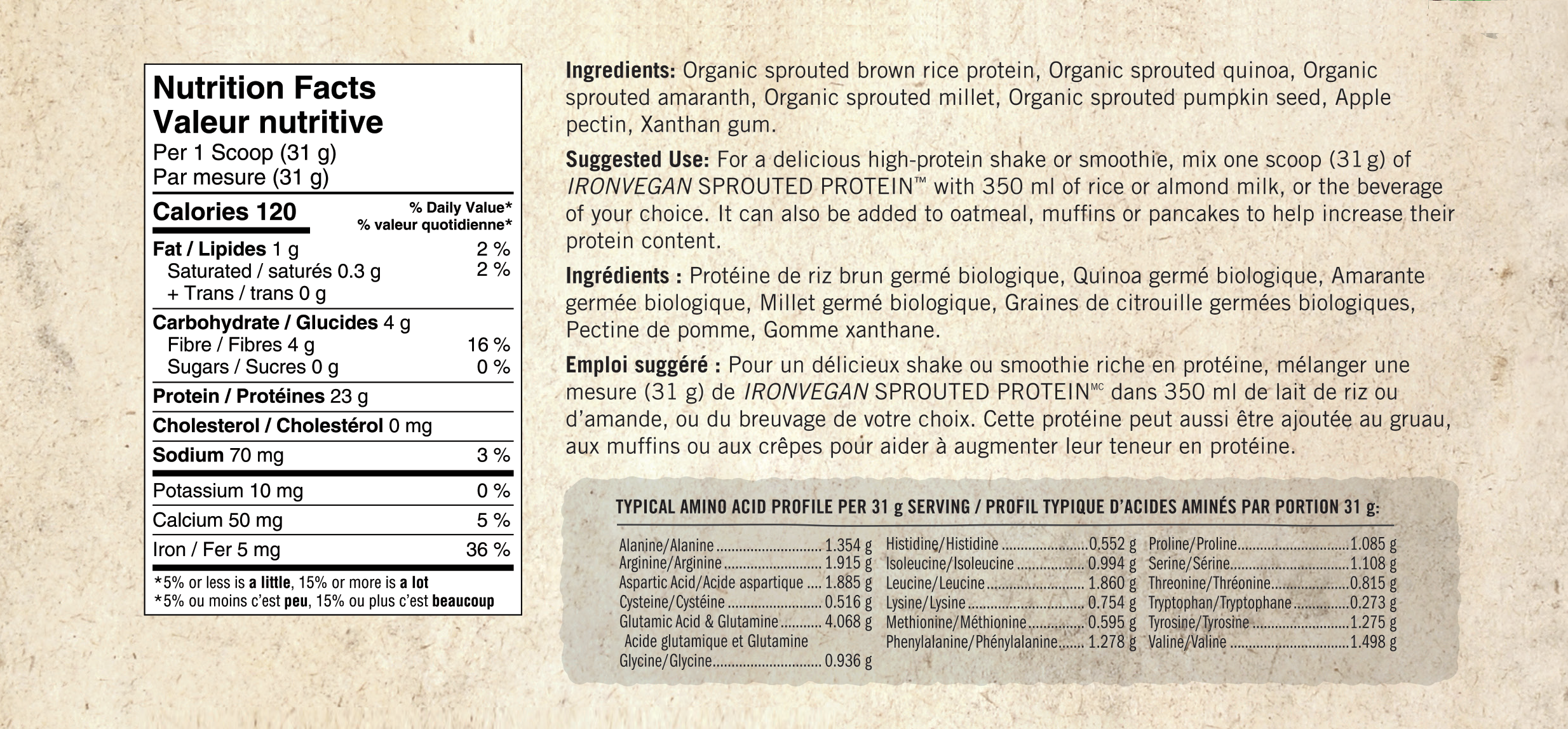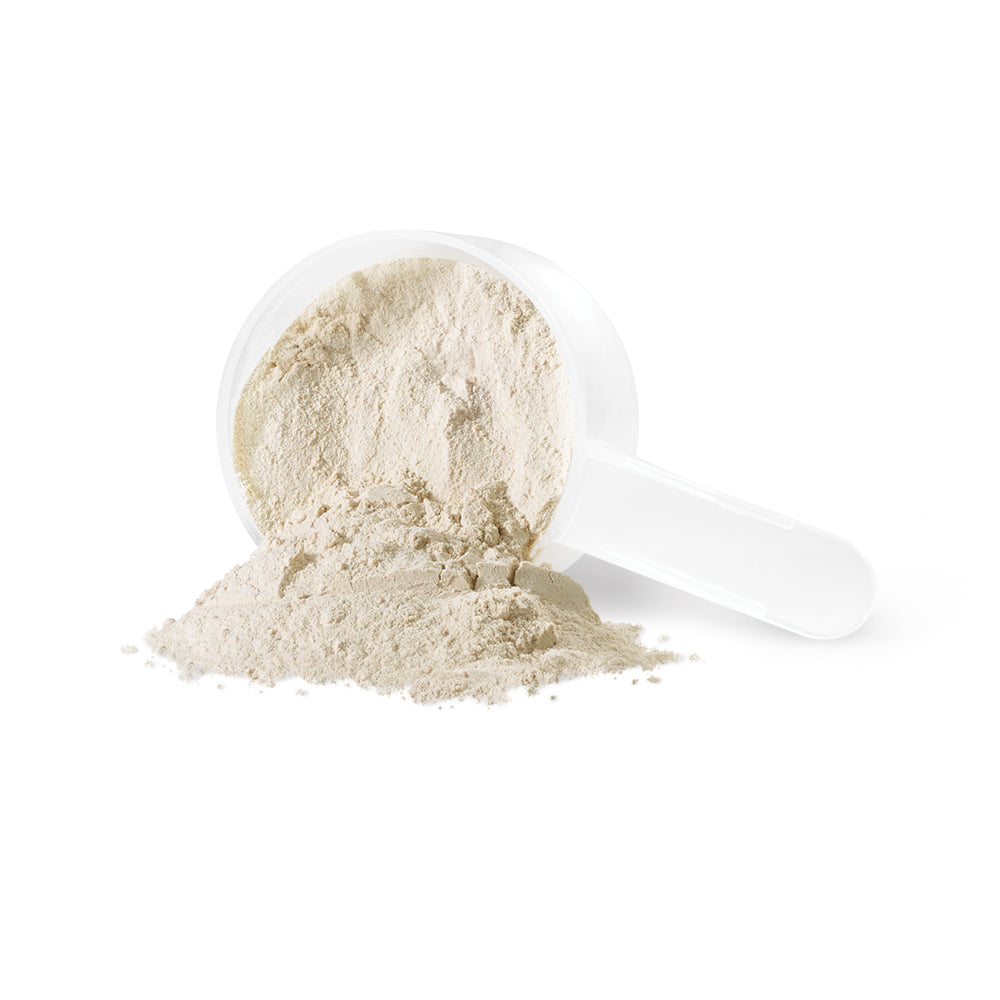 Organic, Non-GMO, Plant-Based Protein
Sprouted Protein
Iron Vegan Sprouted Protein features 5 organic, plant-based proteins that have been sprouted at room temperature for greater nutrition & impact on your performance. When it comes to performance and adventure, your body needs clean, nutritious fuel. By choosing organic, you get far superior nutrition and you protect yourself from the pesticides–herbicides, insecticides, and fungicides–that are used in conventional farming.

Iron Vegan believes functional plant-based nutrition should taste good too. Gone is the gritty, grainy mouth feel of a typical vegan protein. In its place is a smooth, delicious flavour and a creamy texture that will almost certainly surprise you.
For Intra or Post-Workout
---

Organic

Non-GMO

Gluten-Free

Kosher

Made in Canada
Fuels fitness & adventure so you can keep going longer

Fuel your workout with the power of plant-based nutrition. Sprouted Protein is clean, delicious, and fully loaded with the best possible ingredients to fuel your fitness goals.




Builds lean muscle so you can come back stronger

Each scoop of Sprouted Protein delivers 22 grams of protein sourced from sprouted grains to help you build strong muscles.




Accelerates recovery so soreness doesn't stop you

Refuel post-workout or mid-adventure with all natural, non-GMO, real-food nutrition to give your body the support it needs so you can keep going longer.




5 Sprouted grains and seeds

Sprouted grains and seeds have been shown to be higher in nutrients like the B-vitamins, Vitamin C and essential amino acids. Plus there is greater enzyme activity for improved digestibility and absorption. The net result is undeniably better nutrition.




Made with real food ingredients

Like all Iron Vegan supplements, our Sprouted Proteins are made using real food ingredients to provide a rich source of nutrients to fuel you and your adventure.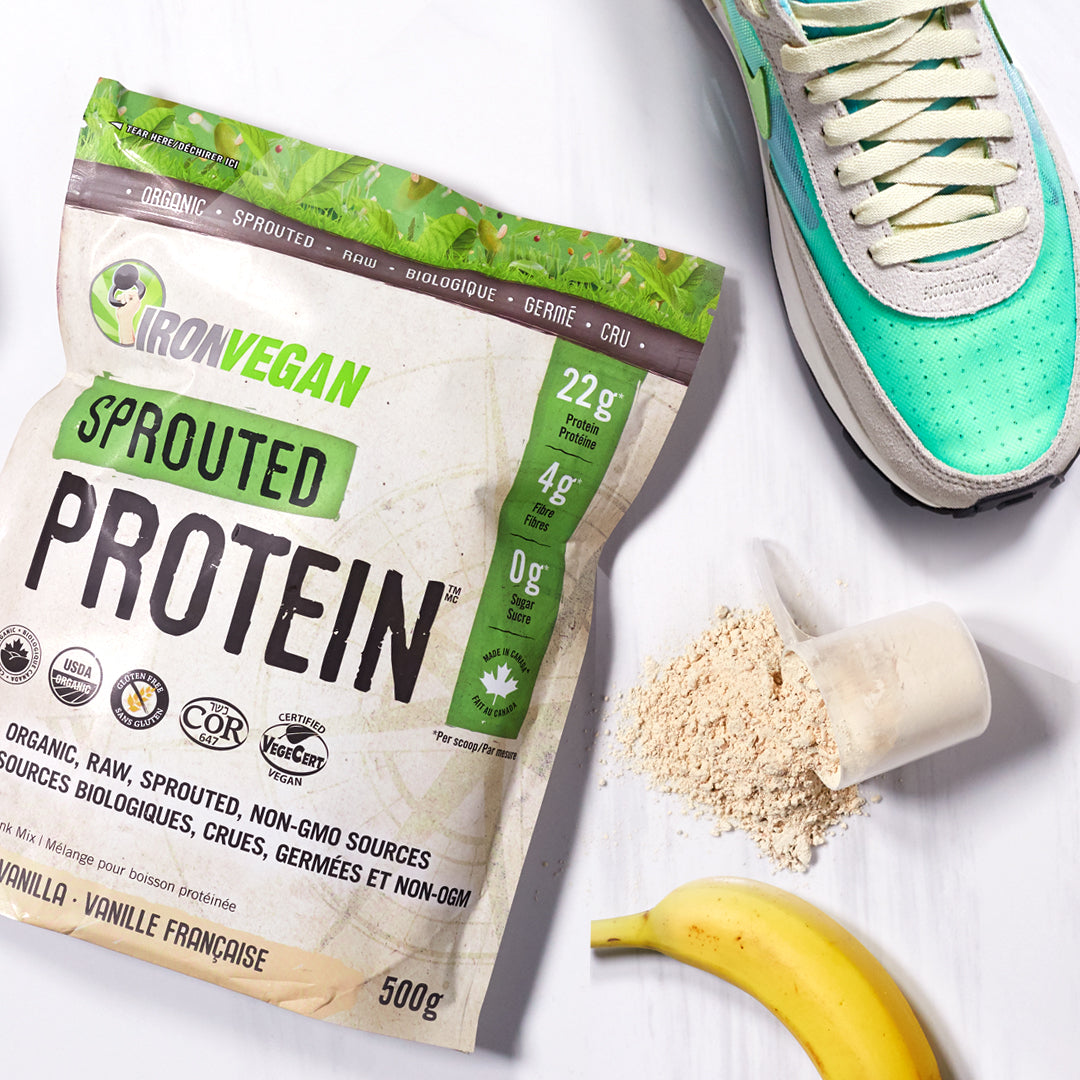 How To Use
Suggested Dose (Adults): For a delicious high-protein shake or smoothie, mix one scoop (31 g) of IRONVEGAN SPROUTED PROTEINTM with 350 mL of rice or almond milk, or the beverage of your choice. It can also be added to oatmeal, muffins or pancakes to help increase their protein content.
---
Green Goodness Smoothies
A creamy, green smoothie packed with spinach, avocado, and more.
How long will it take to get my order?

Iron Vegan offers free shipping on all orders via FedEx. Orders are shipped within 1 business day and typically delivered within 1 to 3 business days to most major cities*. Delivery to Territories and rural areas may take 5 to 10 business days**.

*Estimates reflect average non-holiday delivery times. Delivery timeframes are not guaranteed.

**For some Territory and rural addresses, last-mile delivery may be completed through Canada Post.
Do you ship internationally?

Unfortunately, due to differences in labelling requirements for natural health products, we are unable to offer shipping to addresses outside of Canada.
Are all Iron Vegan products Vegan?

Yes! Iron Vegan is proud to offer 100% plant-based performance nutrition supplements to help you reach (and exceed) your fitness goals.
Our customer support team is available Monday to Friday: 9am-5pm EST.
Contact Us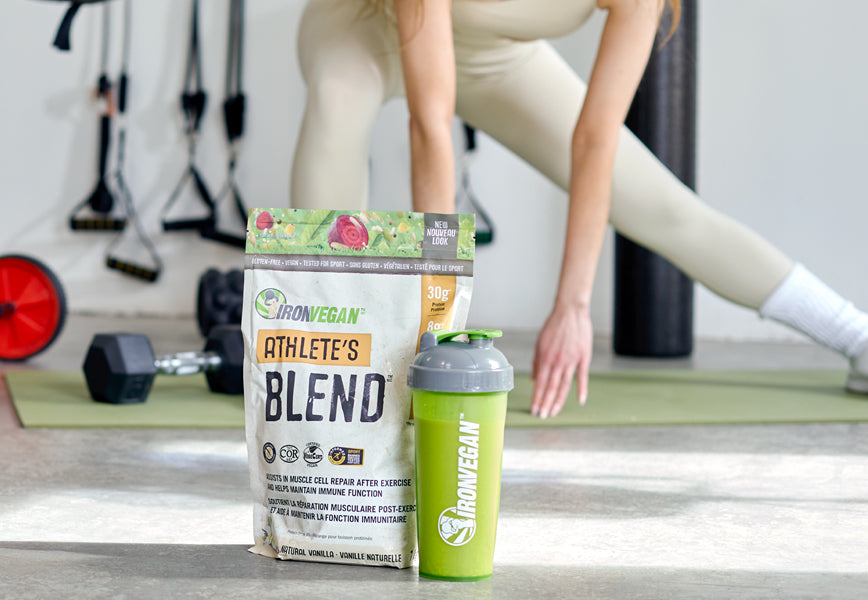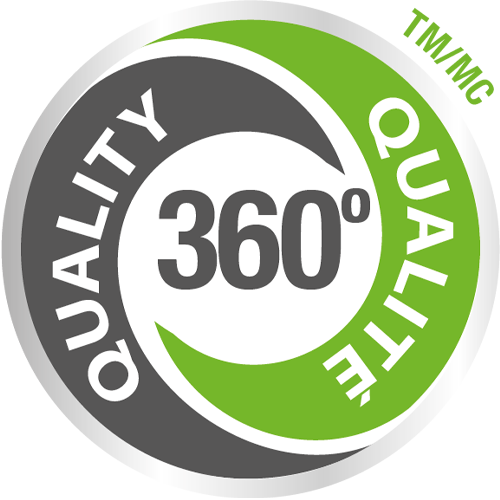 Quality is Our Obsession
We're committed to providing you with the best in plant-based nutrition. That means ethically-sourced, pure and authentic ingredients backed by industry-leading quality standards.
Learn More
This product has no reviews yet.