Shake up your breakfast routine and start the day with some veggies by making these savoury pancakes.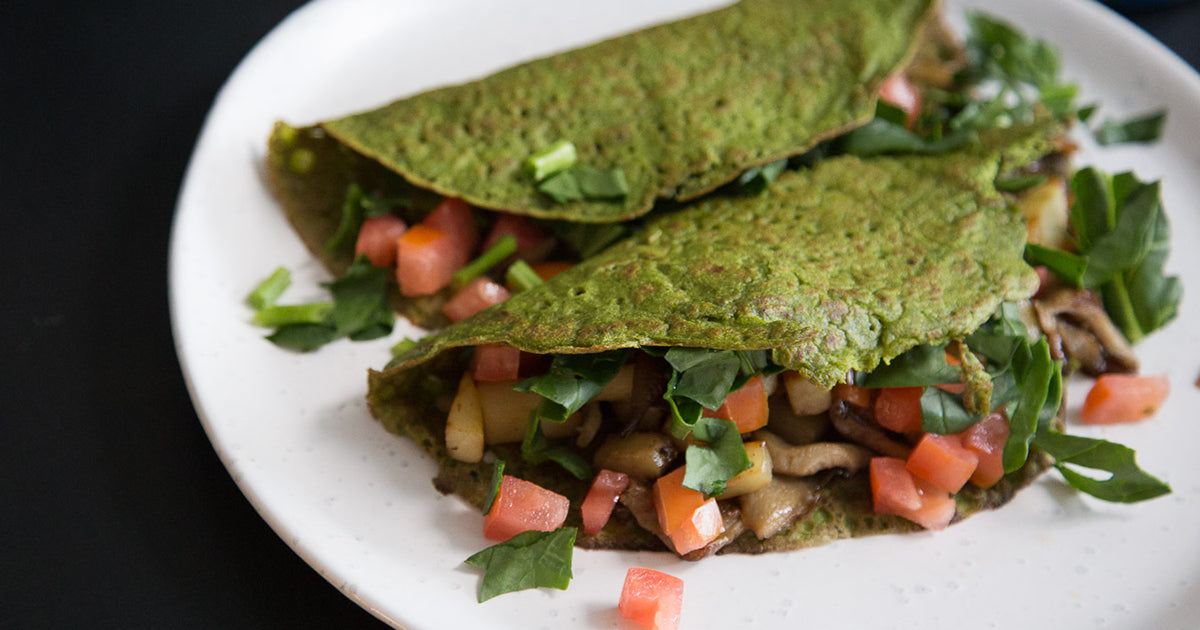 Ingredients
Pancakes Filling
• 1 Tbsp Olive Oil
• 1 cup Sliced White Onion
• 1 cup Oyster Mushroom
• 1/2 piece Diced Potato
• 1/2 clove Garlic
• 1/2 tsp Smoked Sweet Paprika
• Salt and Black Pepper to taste Pancakes
• 1 cup Chickpea Flour
• 1 scoop Iron Vegan Sprouted Protein - Unflavoured
• 1 cup Spinach
• 1/4 cup Parsley
• 1/4 cup Basil
• 1 Tbsp Olive Oil
• 1 tsp Salt
• 1 Tbsp Nutritional Yeast
• 1 cup + 4 Tbsp Water
Directions
1. Blend the pancake ingredients in a blender, then let the mixture rest for about 1 hour or overnight.
2. To make the filling, sautée onion in a pan, then add the oyster mushroom until golden brown. Finally, add the diced potatoe and cook until tender. Set aside covered to keep it warm.
3. Heat olive oil on a non-stick pan. Add a thin layer of the pancake mixture, about 1/4 cup, and quickly swirl it around the pan. Make sure to make sure it is evenly distributed. Cook just until the edges start to pull away from the bottom of the pan, and bubbles start appearing.
4. Very carefully flip the pancake and cook it for 10-15 more seconds on the other side.
5. To keep the pancakes warm, cover cooked pancakes with a metal mixing bowl.
6. Fill each pancake with the mixture. You can also add avocado, fresh spinach and tomato.Enjoy!