Celebrate the season and enjoy the classic flavours of fall with Pumpkin Pie Granola and a Pumpkin Pie Latte.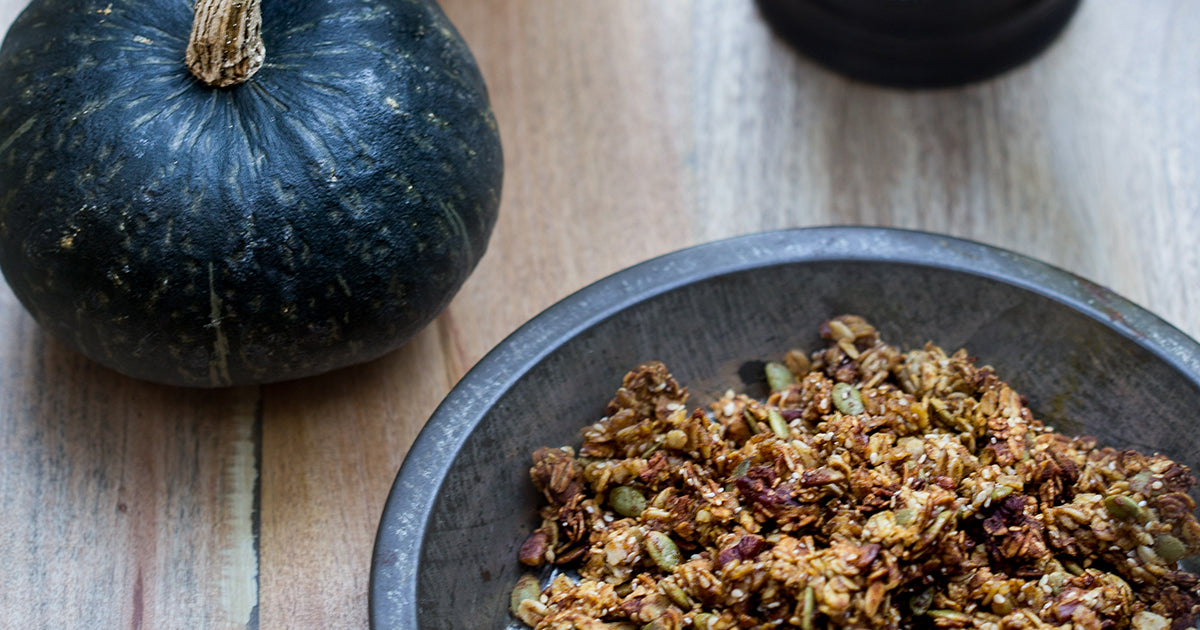 Ingredients
Pumpkin Pie Granola
• 2 cups Oats
• 1/2 cup Chia seeds
• 1/2 Sesame Seeds
• 1 cup Pumpkin seeds
• 1/2 cup Chopped pecans
• 1/2 cup Amaranth
• 1 tsp Maca
• 1 tsp Turmeric
• 1/2 tsp Black pepper
• 1 tsp Sea Salt
• 2 Tbsp Cinnamon
• 1/2 Tbsp Nutmeg
• 1/2 Tbsp Cardamom
• 2 Tbsp Minced ginger
• 1 cup Pumpkin purée
• 1 scoop Iron Vegan Athlete's Blend - Vanilla
• 3/4 cup Agave or Maple syrup
• 1/4 cup Melted Coconut Oil

Pumpkin Pie Latte
• 1 cup Oat Milk
• 4 Tbsp Pumpkin purée
• 1/2 cup Water
• 1/4 tsp Cardamom
• 1/4 tsp Cinnamon
• 1/4 tsp Nutmeg
• 1 piece Star Anise
• 1/4 tsp Turmeric
• 1 pinch Black pepper
• 2 Tbsp Iron Vegan Sprouted Protein - Salted Caramel
• 1 Shot of espresso
Directions
Pumpkin Pie Granola
1. Preheat the oven to 300 degrees.
2. Mix the dry ingredients together, and then add the wet ingredients.
3. Spread the mixture evenly on a baking sheet and bake for 35 to 40 mins, depending on the level of crunchiness you prefer.
Let cool entirely on the baking sheet. If stored in a container, this can keep in the fridge for up 2 weeks. Enjoy! This a great recipe for a post-workout treat, after a session of exercise, or for breakfast.Note: If you want to enhance the flavour of your spices, toast them in a pan on medium heat pan until fragrant (less than a minute).You can also make energy/post-workout balls from this mixture. Using your hands, form smalls balls of the mixture, and bake them the same way.

Pumpkin Pie Latte
1. Add the oat milk and water to a medium pan, bring to a simmer, then add the pumpkin puree and whisk until smooth.
2. Add the spices and the Salted Caramel protein powder, then add the shot of espresso.
3. Strain the mixture or just take out the star anise.
4. Serve hot. You can sprinkle cinnamon powder on top. Enjoy!!