This nutritious, delicious granola is a great way to kick-start your day!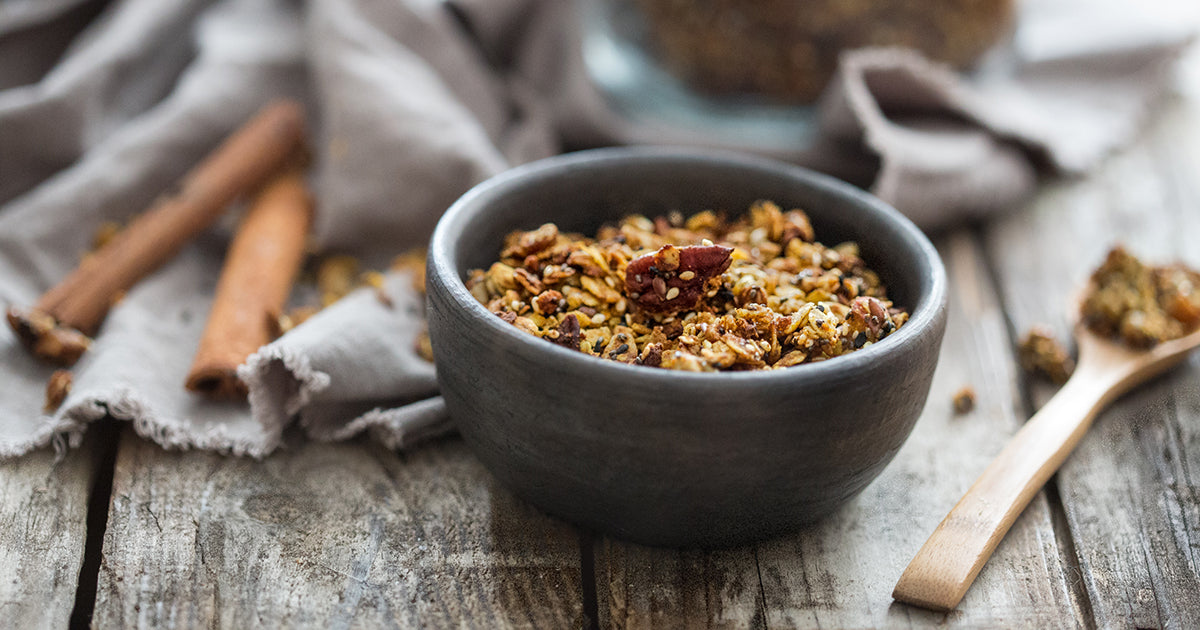 Ingredients
• 2 cups Large Rolled Oats
• 1 cup Black and White Sesame Seeds
• 1 cup Pecans
• 1 cup Sunflower Seeds
• 1 cup Flaxseed
• 1/2 cup Chia Seeds
• 2 scoops Iron Vegan Vanilla Protein Powder
• 1 Tbsp Ginger Powder
• 1 Tbsp Turmeric
• 1/2 tsp Black Pepper
• 1 1/2 Tbsp Cinnamon
• 1 tsp Salt
• 1/2 tsp Nutmeg
• 1 piece Apple
• 3/4 cup Maple Syrup
• 1/4 cup Coconut Oil
Directions
1. Preheat the oven to 300°F degrees.
2. Dice the apple.
3. In a large bowl, mix oats, sesame seeds, pecans, sunflower seeds, flax, chia, protein powder, ginger, turmeric, black pepper, cinnamon, salt, nutmeg and apple. Stir until combined.
4. Melt the coconut oil and drizzle it in the bowl along with the maple syrup.
5. Spread the mixture evenly on a baking sheet and bake for 25 to 30 minutes, depending on how crunchy you would like it to be.
6. Let cool entirely on the baking sheet. Keep in the fridge for up to 2 weeks. Enjoy! Good as a pre-workout cereal! It is essential not to exceed a temperature of 350°F degrees when you are baking with ingredients with the content of fatty acids, like flaxseed. This is to keep all their nutritional value, as exceeding that temperature can transform healthy oils into trans fatty acids.
7. We are using ginger and turmeric to reduce inflammation, black pepper to boost nutrient absorption of turmeric and cinnamon to keep your body warm during the cold season!
I love the apple-cinnamon combo, but you can change it for blueberries or raspberries.